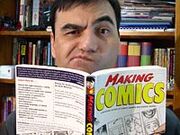 Me is the oldest theme on Irregular Webcomic!, debuting with comic number 1 . Me is typically used to address the readers directly, create self-referential humor, foreshadow upcoming events and mark out special dates or occurrences, such as the 500 th strip or, on one occasion, April Fool's Day. Me also appears occasionally as the Dungeon Master of the RPGs being played in Fantasy and Space.
There is only one recurring character, being the author, David Morgan-Mar. He is unique in that he is represented by photographs of himself, not a Lego mini-fig, model or miniature.
Impending Deaths
Edit
In comic #1667
on August 29, 2007, Me revealed that one of the characters in IWC would be permanently killed off by the end of the year, and since that strip, various characters have entered mortal peril:

The Joneses were lucky in that Da Vinci's last trap wouldn't fit into the room
Nigerian Finance Minister has managed to talk his way out of being shot.
Steve and Terry manage to land at Glasgow, though put into prison.
Dwalin has caught up to the rest of the group and the orcs have been defeated.
Lambert has since shown no ill effects from his ealier wound.
Will Shakespeare is back at work exploring the beat panel
Stud has been shown in the next film
Jamie and Adam have escaped while using Charon to their advantage
What happened to David Morgan-Mar
Edit
Ended up going back in time as a Death and murdering himself with a scythe. He then became the Death of Going Back in Time and Murdering Yourself.
Community content is available under
CC-BY-SA
unless otherwise noted.